CHELSEA VINTNERS / A DECADE OF WINE
10 MEMORABLE WINES OVER 10 MEMORABLE YEARS
As you may or may not know, Chelsea Vintners was founded in 2012 by a small group of friends and wine lovers. As passionate drinkers and collectors of the world's finest wines, we had become disenchanted with the status quo of the fine wine market. We received the same predictable wine offers year in year out, which meant that we had all ended up with very similar collections, full of wines that were too young to enjoy and that simply didn't reflect our personal tastes. No-one had ever asked us what we really liked or helped us explore and understand our individual palates – so the idea was born that we could help others build the collection of their dreams by focusing on gaining a deep understanding of every client's personal tastes and collecting goals, tailoring our offers and providing a truly personal service.
The decade since has taken us on the journey of our lives. We have shared so many incredible wines with our customers along the way, many of whom have become not just clients but lifelong friends thanks to the power of wine in bringing people together. As a result, it is impossible for me to list all the unforgettable wines shared over the last ten years, so (after much thought!) I have narrowed it down to one wine per year that means something truly special to Chelsea Vintners and the people who have supported us along the way.
ROAGNA CRICHËT PAJÉ 1978
The wines of Roagna have always held a special place in our hearts and were a great influence in the formation of Chelsea Vintners. These were the kinds of wines and the kinds of people that we fell in love with; the wines and stories that we ourselves wanted to drink, enjoy and share with our customers. Luca and his family welcomed us in and supported Chelsea Vintners from the very start, for which we will always be grateful.
It's almost impossible to find a bad Roagna, but my superstar bottle has to be the incredible Crichët Pajé 1978. Now a legend of Piedmont, in the early 1970s Crichët Pajé was still a secret experiment masterminded by Giovanni Roagna, using fruit from a unique single vineyard site which had previously only been enjoyed by the family. However, in 1978 this all changed when Roagna decided to release the wine to the market, making this the first ever vintage of this wonderful wine available for commercial sale.
DOM PÉRIGNON 1976
For this wine, I must give huge thanks to a particularly generous friend and supporter of Chelsea Vintners from the very beginning (he knows who he is!) who deserves full credit for introducing me to the wonders of mature Champagne with an incredible bottle of 1976 Dom Pérignon original release, or P1 as this wine is now known.
The initial focus of our evening was a degustation menu and two stunning reds; a 1971 de Vogüe Musigny and a perfect bottle of 1978 Giacomo Conterno Barolo Monfortino Riserva (the 1978s are certainly becoming a theme here!) The Musigny was at its peak as one of the great vintages of Domaine Comte de Vogüe and I was so excited to taste the Monfortino after devouring so many tasting notes from Antonio Galloni on this legendary wine. At first, I dismissed the Dom Pérignon as just an appetizer, merely something to get the palate started in preparation for the 'real' wines. As the evening progressed, I was thoroughly enjoying both reds and must admit that I was using the Dom Pérignon more as a palate cleanser than thinking of it as an equal to its companions. Both reds had fully opened up and were drinking beautifully, but I had this nagging feeling in the back of my mind that the DP was just getting better and better. As the last courses were served, I finally sat with it and gave it the attention it deserved… and was promptly blown away by just how good it really was. It had simply blossomed in the glass and was just so expressive on the nose, with a panoply of notes and a palate so complex and delicious that I couldn't put it down. By now, I had completely forgotten about the Monfortino and the Musigny! This was a life changing introduction to how good mature Champagne can be, and I haven't looked back since.
LEFLAIVE CHEVALIER MONTRACHET 1992
Not just one of the greatest wines I've ever tasted, but undoubtedly one of the greatest white wines in history!
I served this at an incredible tasting of top end Burgundies – one of those rare tastings where each bottle was better than the last, yet each wine amazing in its own right. Upon opening this bottle of 1992 Lelaive Chevalier Montrachet, all were instantly delighted by the bright straw yellow tones rather than the gold hues we had expected from an aged Chardonnay. Right off the bat it looked so fresh and incredibly pleasing to the eye, let alone the nose! From the moment it was opened this wine burst with tropical and citrus fruits, confirming the incredible freshness implied by the beautiful colour.
As the night wore on, many great bottles featuring famous names from Coche-Dury to DRC were opened and their respective qualities extolled by each owner… but silence fell when I asked everyone to go back to the '92 Lelaive Chevalier. It had turned into the most delicious, buttered popcorn, pineapple, peach, dark hazelnut and chocolate flavour bomb, gobsmackingly good with breathtaking length of flavour. It transported me right back to trips to the movies as a kid, walking into the cinema to the scent of fresh, buttery popcorn!  A truly life affirming wine, and one that I am very grateful to have shared with passionate wine friends.
JOSEPH PHELPS INSIGNIA 1978
This was a true revelation bottle! I was introduced to mature Californian Cabernet Sauvignon by the late Ed Burns, a dear friend and one of my most influential mentors in the world of wine, someone who was larger than life not only in personality but also in his huge generosity with his time and seemingly endless wine knowledge. The Insignia 1978 (another birth year vintage for me, what a great year!) sits amongst the top three wines that I have ever tried and will always be special for the immense significance as well as the incredible taste and quality.  If you have never tried a mature California Cabernet, then this is undoubtedly the place to start your journey. Thanks, Ed.
DOMAINE DE LA ROMANÉE-CONTI, LA TACHE 1966
Over the last decade, the Chelsea Vintners team have been extremely fortunate to share many incredible bottles with our customers; most of whom have become close friends through shared experiences and a passion for the finest wines of the world. For me, this wine is the perfect example of the unique way in which amazing wines bring people together.
Collecting fine wine can be something of a strange phenomenon, in that you sometimes find that you have special bottles tucked away that you are desperate to share, but only with those few that truly know and can appreciate the magic in the glass – the DRC La Tâche 1966 is one of those once in a lifetime bottles (unless you are one of the lucky few who still own a case or two!). This bottle was shared, as it should be, between a group of friends and lifelong DRC disciples thanks to one particularly passionate and generous collector amongst us. One of the most intense, haunting and utterly unforgettable vintages of La Tâche that I have ever tasted, this was a Burgundy of exceptional beauty that just got better and better as we came back to it throughout the night. A shared experience which brought us all closer together and that we will remember forever.
VEGA SICILIA UNICO 1968
The wines of Vega Sicilia have always stood out for me amongst many more illustrious names from around the world, and the iconic Unico is the pinnacle of what this amazing Spanish producer has to offer. Unico has graced many a Chelsea Vintners dinner table over the last ten years and will no doubt continue to do so for a long time to come.
Since the inception of CV, we have had great fun discovering and enjoying many vintages of Unico from across the years; however, time and time again we all find ourselves returning to our favourite decade, the 1960s (which also happens to feature three of our founder's birth years!). I have enjoyed Unico from the 1960s on several occasions and for me, the years that really stand out include 1962, 1964 and 1965 – I also love the 1968 and 1970, and I think that with some bottle age that this wine really is hard to beat. In essence, Unico is one of those wines which is delicious and reliable year in, year out, rewarding patient drinkers and collectors with what we see as one of the best drops of red in Europe.
CHÂTEAU HAUT-BRION 1989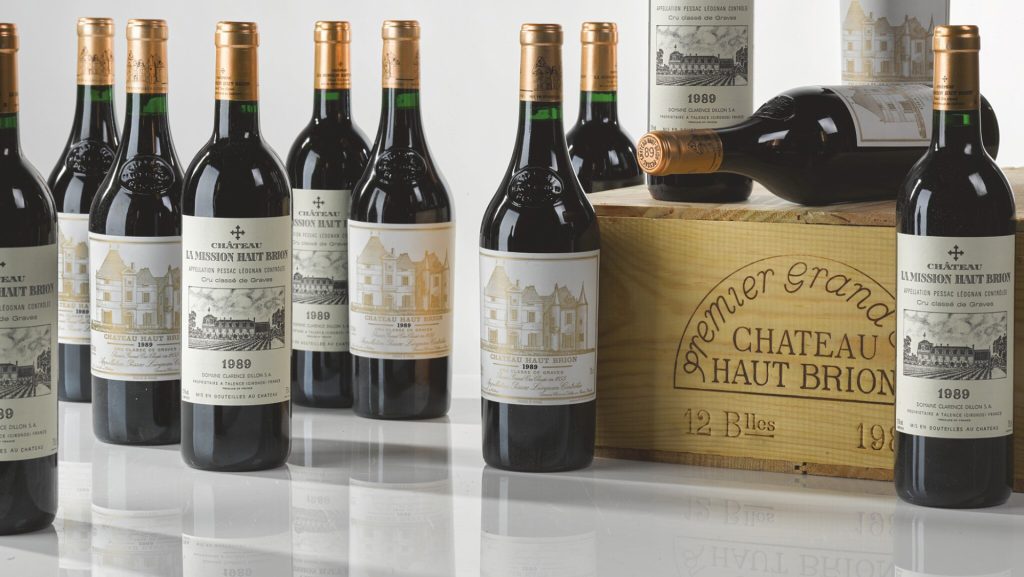 A Chelsea Vintners favourite before Chelsea Vintners was even a gleam in our eyes!
This is without a doubt my ultimate desert island wine. When I see that gold label with the '89 stamp in a cellar I get very excited! As a collector I have a real emotional attachment to Haut-Brion '89 – it has been my rock in the world of fine wine, and I have been fortunate enough to drink it and watch it evolve over the past 20 years. I've seen this incredible wine reach its peak in every format going, from bottle, magnum, double magnum and even an unforgettable half bottle from the cellars of Tour d'Argent in Paris.
This is not a brash or flashy wine (I've heard some say it is even a little too constrained or doesn't give enough, although I disagree) but for me it is the epitome of classic Bordeaux and represents everything that a fine wine should be. It has a rustic charm which keeps it grounded in the Old World but is paired with a sophisticated modern outlook that gives me a mental image of the vinous love child of Michael Broadbent and Robert Parker! In the simplest terms, for me Haut-Brion '89 is like a favourite book that you find the same joy in every single time you open the cover.
PENFOLDS GRANGE 1998
As an Aussie born and bred, I couldn't go through the last decade in wine without a visit to my home country! I enjoyed this vintage of what is undoubtedly Australia's most legendary wine on release as I was beginning my wine journey and I fell in love straight away. I was absolutely mesmerised – I'd never tasted anything like this before, and on reflection I would have to say this is the very bottle that propelled me into a career in wine. It was so intense from the beginning; unlike a young Rhône or Bordeaux which can be quite tight and tannic in their youth, the 1998 Grange was generous and confident from the start. Like a young racehorse, it was smooth and dark, muscular, compact and flighty. You could feel the underlying tension reverberating in every sip, and I have loved watching this wine mature over the past two decades from a glossy, twitchy colt into a magnificent stallion. This will be a forever favourite for Chelsea Vintners.
DOMAINE D'AUVENAY,  MEURSAULT GOUTTES D'OR 2004
What can I say about this wine … other than it is as close to wine perfection as it gets. The founders of Chelsea Vintners fell in love with the wines of Madame Lalou Bize-Leroy and Domaine d'Auvenay well before the rest of the world discovered this secret gem and prices skyrocketed. We just couldn't keep our hands off them and seemed to find any excuse to open a bottle, becoming well versed in what we saw as the most exceptional and downright addictive white Burgundies we had ever encountered.
As all wine lovers know, the combination of great wine with great food is a fundamental pleasure and we just loved taking these wines everywhere we ate – they were just so good! It's incredibly hard to narrow down my favourite d'Auvenay to just one wine, but it has to be the 2004 Meursault 1er Cru Gouttes d'Or which has stuck with me the most. The first time I tasted this wine was in Villa Mas, an incredible seafood restaurant just north of Barcelona, where the Gouttes d'Or stood head and shoulders above a plethora of other exceptional wines, receiving unanimous votes for wine of the night and remaining a talking point for days afterwards. I'm pleased to report that it has performed with the same elegance and panache every time we've opened a bottle since, blowing everyone away with its complexity, balance and sheer brilliance. I find it quite hard to put all my feelings about this wine into words, so I will stick to just one – perfect.
JABOULET HERMITAGE LA CHAPELLE 1978
I couldn't finish without topping everything off with one more birth year wine! The Rhône Valley is an incredible region that is sometimes overlooked in favour of its more famous neighbours such as Burgundy and Bordeaux – but to underestimate these amazing bottles is a mistake. The wines of Jaboulet are legendary amongst collectors, and the 'La Chapelle', taken from a tiny plot of land on the hill of Hermitage, is considered by many (including me) to be the very best wine that the region has to offer – on a par with any great Grand Cru or First Growth.
Aged Rhône Valley Syrah is a delight for all the senses, and I can still recall that incredibly distinct profile on tasting the '78 La Chapelle for the first time. An ethereal pale ruby colour with the most amazing complex flavours you can imagine, from tobacco and saddle leather to liquorice and chargrilled steak. However, the thing that struck me most was the incredible intense dark fruit, which was as rich and fresh as I imagine it was the day it was bottled. We all marvelled at how youthful and energetic this wine was several decades after its creation- there's a reason why wine lovers know that this is one of the greatest wines ever. I can only conclude that there's just a special something about the year 1978!
Embark on a journey through the sublime world of fine wine and rare spirits with the Chelsea Vintners team. Explore our favourite stories, discover our dream wines and spirits, and gather inspiration for your own collection.